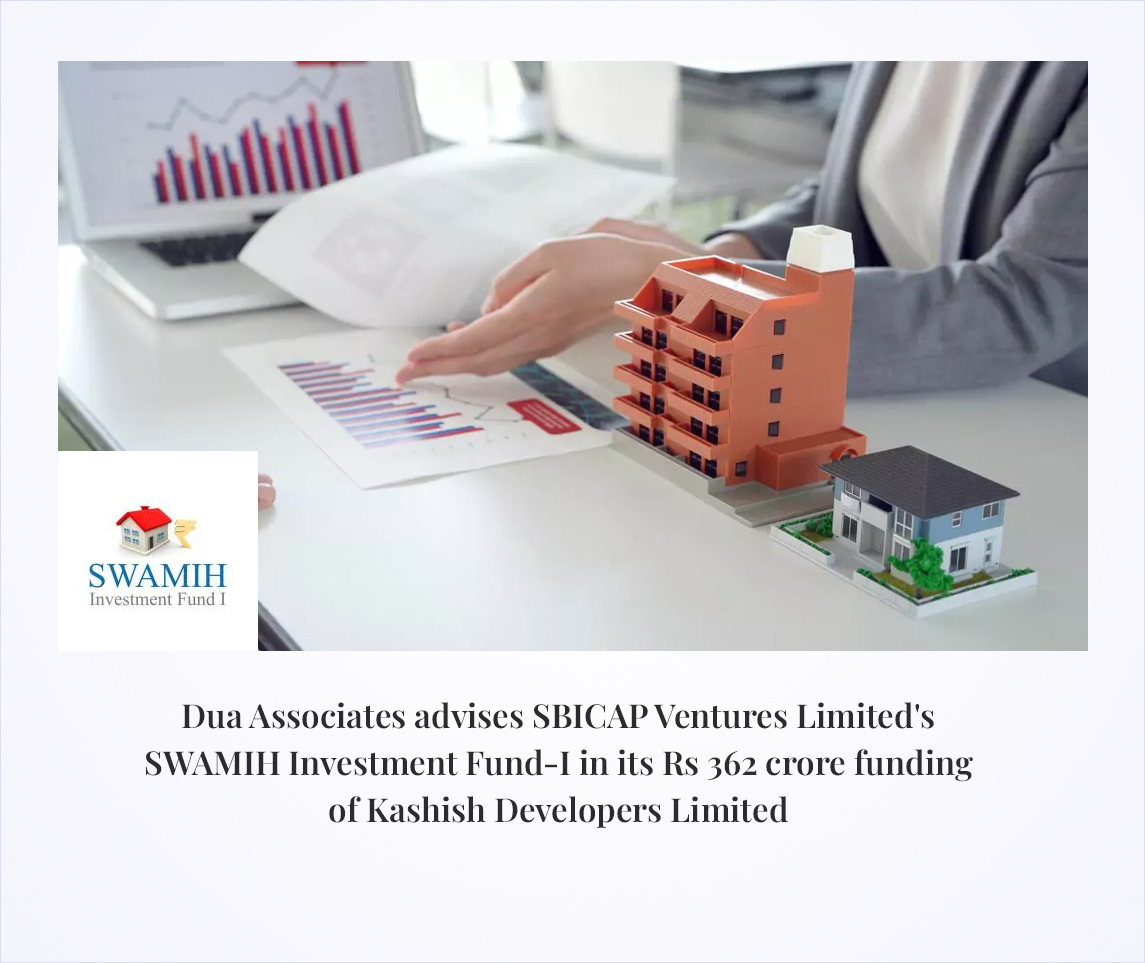 New Delhi, March 2022: Dua Associates advised and assisted SBICAP Ventures Limited's SWAMIH Investment Fund-I in its Rs 362 crore funding of Kashish Developers Limited for the Gurugram-based residential project – Manor One. This transaction once again underscores the role of the Investment Fund as a significant player in the last-mile funding of the stressed & stalled real estate projects. 
The team for Corporate Due Diligence and Documentation was led by Prateek Bedi (Partner), Nityashjit Kaur (Principal Associate), Varun Mathur (Senior Associate), and Rishika Aggarwal (Associate).
The Title Verification team at the firm was led by Angad Verma (Partner), Siddharth Chaudhary (Principal Associate), Tusi Kumar (Principal Associate), Kapil Saxena (Principal Associate) and Toyesh Tewari (Principal Associate).
The transaction was completed in late February 2023 and will contribute to building on SWAMIH Investment Fund-I goal of delivering 20,000 homes every year. 
The Kashish developers project along with the other several housing projects that the Firm's teams have assisted SWAMIH Investment Fund-I with over the last 3 years, have not only helped deliver homes but also contributed to the growth of ancillary industries in the real estate and infrastructure sectors by unlocking liquidity of over Rs. 35,000 crores. 
—————————————————-//————————————————–
About Dua Associates: Dua Associates is a leading law firm in India with an over thirty five year old track record of delivering critical legal solutions for its clients including Fortune 500 companies, financial institutions, governments and SMEs. The Firm is widely recognized for the depth of experienced legal talent and the significant experience of its 250 professionals including 75 partners.
About SWAMIH Investment Fund I  : SWAMIH Investment Fund I is India's largest social impact fund aiming to provide priority debt financing for the completion of stressed, brownfield and RERA registered residential projects that fall in the affordable, mid-income housing category.
For further information/ media queries contact:
communications@duaassociates.com
meera@duaconsulting.com: Mobile :+91 99715 00866