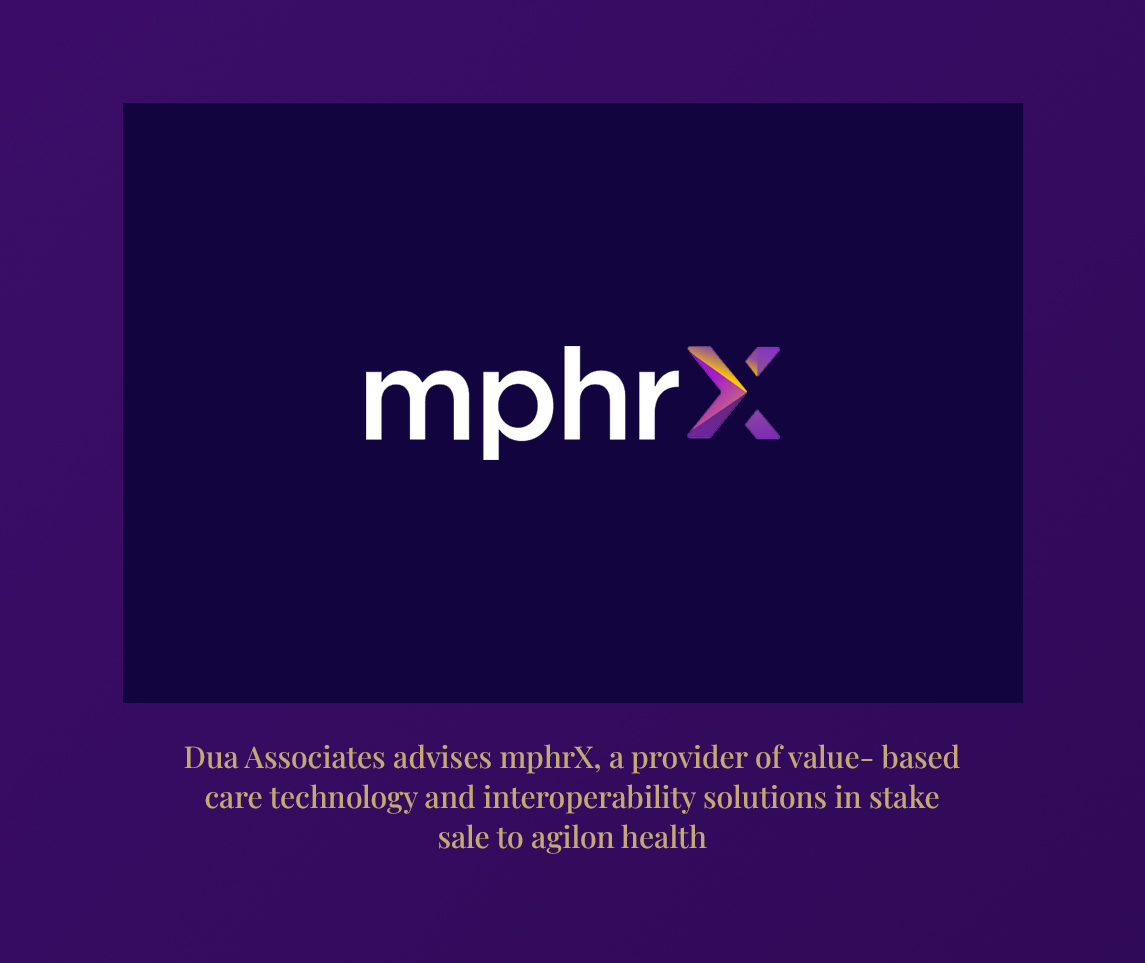 New Delhi, March 2022: mphrX which is engaged in transforming the world of healthcare through continuous digital innovation and value-based care technology was acquired by agilon health (NYSE: AGL). The transaction closed on February 28, 2023 and represents a $45 million investment by agilon.
Dua Associates' team of Partners Prateek Bedi and Angad Varma, Senior Advisor Sunil Malik, Principal Associates Nityashjit Kaur and Rahul Goyal, advised mphrX on Indian law aspects of the transaction including advise on documentation, negotiation and closure the transaction.
Trilegal and Shepphard Mullin Richter & Hampton advised agilon on Indian and US law aspects respectively. Greenburg Traurig LLP advised mphrX on US law aspects.
This is a significant transaction as mphrX's Minerva Healthcare Data Platform's integration into agilon's enterprise technology platform will enable faster onboarding of agilon partners and rapid integration of clinical data, accelerating performance and speed to value for patients and physicians.
—————————————————-//————————————————–
About Dua Associates : Dua Associates is a leading law firm in India with an over thirty five year old track record of delivering critical legal solutions for its clients including Fortune 500 companies, financial institutions, governments and SMEs. The Firm is widely recognized for the depth of experienced legal talent and the significant experience of its 250 professionals including 75 partners.
About mphrX : mphrX is an innovation partner for organizations pioneering the next generation of healthcare. mphrX's Minerva Health Data Platform brings together patient data from multiple systems to create a real-time unified health record. mphrX is an ISO 13485, ISO 27001 certified organization. mphrX received the Frost and Sullivan Global Digital Transformation Platform Enabling Technology Leadership Award in 2020.
For further information/ media queries contact:
communications@duaassociates.com
meera@duaconsulting.com: Mobile :+91 99715 00866