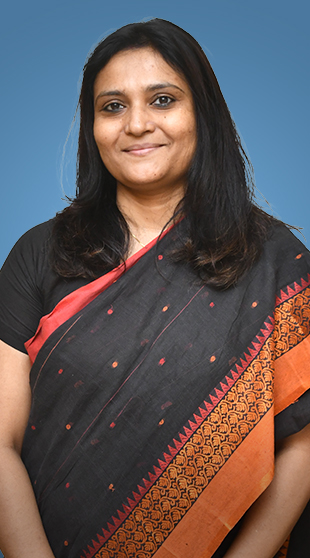 November 27, 2020
Shreema has been practicing for the past 17 years focusing on strategizing business and marketing model related to IP protection, IP enforcement and IP agreements. Her domain expertise and practice areas of focus cover Intellectual Property Rights, Domain Name Dispute Resolution, Customs and Brand Strategist. She also has experience in conducting due diligence for the growth and sustainability of the Intellectual Property of diverse industries, backed by  global insight and a commercially well-informed approach.
She has been instrumental in the Firm's Trademarks Exports Practice and works with a large network of foreign associates in 100 plus countries for IP enforcement including Customs recordal for diverse clients. Shreema has been regularly taking  part in the in-house workshops and sessions organized by clients  to create awareness on leveraging  Intellectual Property Rights. She has assisted start-ups in brand conception and clearance and advised them on the application, significance and leveraging of  Intellectual Property Rights.
As a member of the committees of International Trademark Association (INTA), Shreema has served in the Internet Committee of INTA, INTA New gTLD Subsequent Rounds Subcommittee and in the Famous and Well-Known Marks Committee. She has been a member of the working Group of -Gnso-newgtld towards the formulation of the policy making of the Gnso-newgtld.
She has also attended the Asian Multilateral Training Session in Singapore. Shreema has delivered talks on plagiarism at the National Institute of Fashion Technology and has been a speaker at the Workshop organised by the Automotive Tyre Manufacturers' Association-ATMA India.