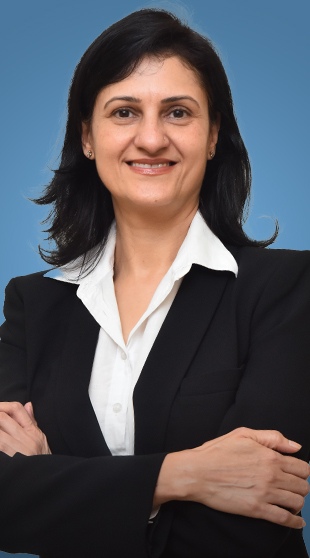 November 27, 2020
Seema practices primarily in the areas of corporate, commercial, compliance, regulatory, mergers & acquisitions, infrastructure, energy, mediation, litigation, and litigation strategy. She provides corporate advisory services on real estate development projects, water distribution projects, PPP projects, and assists clients in preparing and/or finalizing corporate and commercial agreements, concession and license agreements, operations and maintenance contracts, RFQs and RFPs, and tenders.
As a practicing Insolvency Professional Seema also advises on insolvency matters. She has assisted companies in foreign direct investment regulations, and dispute resolutions besides advising on regulatory and compliance matters. Her representations before the Delhi High Court and the Supreme Court of India include representing MS Nordlake, Global Purity Asian Shipping, Air Liquide North India, ARINC Incorporated, USA, Shipping Corporation of India, Longulf Trading India Private Limited, and Standard Chartered Bank on commercial litigation matters.
Seema has represented Indian Railways in the grant of commercial publicity rights to private parties. She has represented multinational companies such as Air Liquid India, Bechtel Corporation, BNP Paribas, CH2M HILL, Walmart Group, Tahitian Noni International, Dow Corning India Private Limited, Q-Invest, Lootoo, CIBER, Mitsubishi Electric Corporation, ANZ Bank, Toyota Motor Company, Exxon Mobil, Vacation Singapore DMC Private Limited, Koch Industries, Lubrizol Corporation and ADP National Account Services on corporate and commercial law issues.Seema has participated in think tank forum of the IICA, ASSOCHAM and PHD Chambers of Commerce.
She is/has been an independent director on the board of various companies and has been a member of POSH committees. She advises not-for-profits organizations in drafting their policies, as pro bono work.
Seema is a Member of Delhi Bar Council ; Delhi High Court Bar Association ; Institute of Company Secretaries of India (an Insolvency Professional Agency) as an Insolvency Professional.  She is also a Member of Independent Director Databank of Indian Institute of Corporate Affairs and the Taskforce on Corporate Restructuring and M&A, ASSOCHAM.