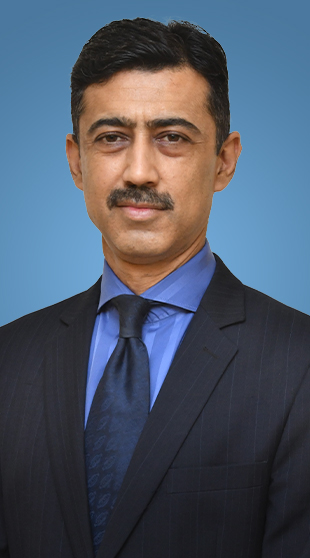 November 25, 2020
Salil Gulati is a versatile lawyer who apart from his focus on Corporate & Commercial, is also an expert in Joint Ventures & M&A, besides having significant experience in Franchising / Licensing Agreements/ Distributorship Agreements/Outsourcing Arrangements. Salil also has litigation experience in the High Court.
In a career spanning 23 years, Salil has worked on several cases and transactions that reinforce his track record as a leading lawyer in his practice areas.  Salil has been representing and advising clients on several critical matters including multi nationals from the FMCG sector.
Additionally, he has advised various companies on franchisee and distributorship agreements, as  well as corporate and regulatory matters relating to food laws and packaging laws related matters.
Salil has advised a diverse range of clients in evaluating business options, on formulating, negotiating and implementing structures for foreign investments and acquisitions, re-structuring companies, mergers and acquisitions, establishing joint venture companies, wholly owned subsidiaries, etc.
He has extensive experience in drafting and negotiating transaction documents including term sheets, memorandums of understanding, letters of intent, joint venture agreements, shareholders agreements, share purchase agreements, asset purchase agreements, business transfer agreements, limited liability partnership agreements, franchisee and distributorship agreements, supply agreements, high-sea sales agreements, services agreements, confidentiality and non-disclosure agreements, non-compete agreements, data transfer agreements, domain name assignment agreements, escrow agreements, leases, leave & license agreements, agreements to sell, sale deeds, etc.
Salil is experienced in corporate and regulatory matters relating to foreign investments, acquisitions and joint ventures including legal and regulatory due-diligence reviews of target companies across sectors.
Some of the high-profile cases Salil has advised on that  set him apart in his field of practice include his  front ending of the legal transaction for an Indian company's JV agreement with Turkish company ZyrOne Dynamics for manufacture and marketing of UAVs in India and his involvement in Fromageries Bel SA's entry-strategy for India and its joint-venture in India with DANONE Foods and Beverages India Private Limited . He represented General Motors in the transaction relating to the acquisition of majority stake by General Motors (Hong Kong) Company Limited in SAIC General Motors Investment Limited from SAIC Motor HK Investment Limited, Hong Kong. Other clients who Salil has represented include TAFE, RJ Corp and Safran Group.
Salil has been recognized by Forbes India as among India's Top Individual Lawyers 2021 in Corporate & Commercial practice in the above 10 years category.
He  has been on the Boards of Indian subsidiary companies of some of the major multinational corporations. He currently serves as Board Member of Fromageries
Bel India Private Limited, McDonald's India Private Limited and Wesco Aircraft
Hardware India Private Limited.
He diligently keeps abreast of new developments and fresh perspectives in the legal profession. He mentors law students and is always open to supporting people to be legally compliant and helping them know their rights by law.
Salil is a Member of the Bar Council of Delhi and the Delhi High Court Bar Association.