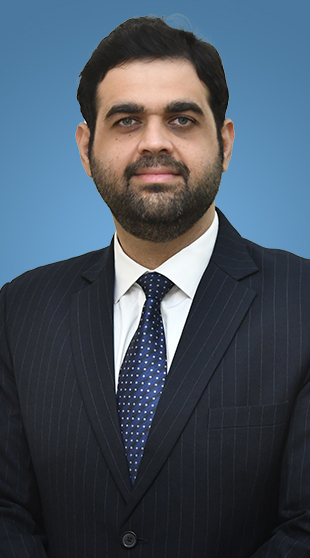 November 26, 2020
Prateek's practice focuses on the areas of corporate and commercial laws. He has extensive experience in client transactions relating to strategic and financial investments and investment structuring, mergers & acquisitions including joint ventures and project finance.
He represents and advises clients in several industry sectors including pharma, real estate, hospitality, power, infrastructure, banking and finance, private equity, information technology and education. He has advised both Indian and multinational companies in these areas. His knowledge and experience of the legal, regulatory and commercial nuances across varied industries enables him to work seamlessly with clients across sectors, involving complex transaction structures including drafting and negotiating transactional documents.
Some of the key transactions that Prateek has been involved in include advising the world's leading global airline catering company with its acquisition of a leading airline caterer in India ; advising a Mauritius based real estate fund, in its proposed investment in a domestic real estate entity proposing to build, develop and sell group housing/flats/plots in NCR and representing a German headquartered global technology group on its joint venture with a domestic consumer goods leader in the business of production and sale of mechanical cleaning utensils for end users and professional users in India.
He has advised several foreign companies with their India expansion as well as M&A and Joint Venture transactions. This includes
1. Representing a Finnish technology company with its acquisition of an Indian company developing IT solutions for the telecom sector
2. Advising a leading sovereign wealth fund of Singapore, in its proposed joint venture with a domestic real estate entity for developing high end villas in NCR;
3. Advising an American multinational technology company in relation to asset purchase of an Indian technology business as part of a global acquisition of assets.
4. Representing an Indian multinational outsourcing service provider in its acquisition of leading company in the business correspondent space. He has also assisted an international oil company in expansion of its footprint across India including rendered advice on matters of real estate, regulatory compliance, FEMA, company law, intellectual property, mergers and acquisitions etc.
Prateek also has experience In the FMCG sector, having advised a leading American sports goods company on its India expansion including in their franchise arrangements across India besides working with a global beverages corporation in preparing internal compliance manuals and standard operating procedures for its pan India operations. His on golng work in real estate sector includes advising an Alternate Investment Fund in relation to debt financing aimed at completion of stalled housing projects in NCR and Karnataka.
Prateek occasionally contributes articles on M&A which have been published in legal and content platforms like Mondaq. He also submits case notes on landmark judgements for legal publications.
Prateek is a member of the Bar Council of Delhi. He is also actively involved with the Finland Chamber of Commerce in India and Business Finland.