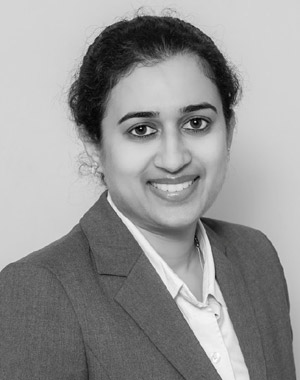 November 25, 2020
Janini practices primarily in the areas of general corporate and commercial law with a specific emphasis on food and other related laws. She has been extensively involved in advising food businesses in India on the manner in which the food products proposed to be launched by them, must be in compliance with the applicable provisions of the food related laws – right  from the composition of the products, the packaging, labeling, licensing and other  aspects. She is also involved in advising operators on other related issues  such as drafting and negotiating relevant contracts, conducting contests / promotional offers and all other related aspects involved in  the launch of  food products in the market.
Janini has additionally  advised organizations engaged in the manufacture and marketing of  food products,  on developments in the area of product approvals related to proprietary food products,  in the context of  the recent orders passed by the High Court of Bombay and the Supreme Court.
Janini has  a master's degree in Commercial and Financial Law from King's College, University of London. She also holds a master's degree in Business Laws (MBL) from the National Law School of India University, Bangalore.
She enrolled as an Advocate with the Bar Council of Karnataka, India in 2008.